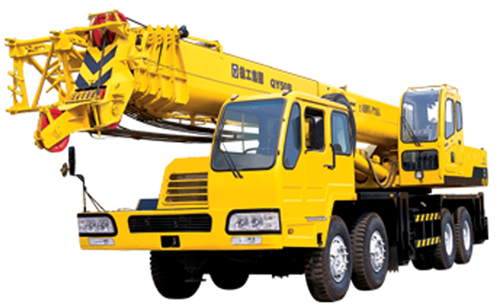 QY50B Truck Crane
QY50B Truck Crane adopts self-made XZ50 special chassis, drive type 8×4.
Powerful Styre WD615.67A engine conforms to emission standard of EuroⅡ.
5-section telescopic boom has all-round hexagon boom profile or oviform boom profile.. Boom telescoping system is double cylinders plus two-row of wire ropes, which? maximizes load lifting capacity.
2-section folding jib with three kinds of offset angle and an additional single top enlarge working range.
Double cylinders for elevating have good stability.
Double H-shaped outriggers with additional front 5th outrigger realize 360o full swing lifting operation.
Two independent winches with variable displacement motor supply oil by single pump or double pumps to obtain low speed with heavy load or high speed with light load at high work efficiency.
Swing system with free-sliding function realize lifted load automatically sliding to position.
Safe and reliable automatic load moment limiter and hoist limit switch conform to China state compulsory standards.
Operator's cab, with adjustable seat and equipped with indicator and pressure gauge etc, is convenient for operation. Air conditioner and heater are for option.
Driver's cab equipped with damping adjustable seat and adjustable steering wheel is convenient for driving operation.
QY50B plateau type, available for option of customers in highland area, is suitable for operation in special working environment of heavy wind and sand, lower temperature, rare air, and etc.
Technical Data for Lifting Operation
Classificatory

Item

Unit

Parameter

Outline dimension

Overall length

mm

13270

Overall width

mm

≤2750

Overall height

mm

3300

Wheel base

Axle 1, Axle 2

mm

1520

Axle 2, Axle 3

mm

3815

Axle 3, Axle 4

mm

1350

Mass

Total mass in travel state

kg

39870

Axle load

Front axle

kg

13935

Rear axle

kg

25935

Travel performance

Travel speed

Max. travel speed

km/h

66

Min. stable travel speed

km/h

3

Turning diameter

Min. turning diameter

m

24

Min. turning diameter at boom tip

m

25

Min. ground clearance

mm

275

Approach angle

(°)

16

Departure angle

(°)

10

Braking distance (at 30km/h with full load)

m

10

Max. grade-ability

%

37

Fuel consumption for 100km

L

48

Power

Model

?

WD615.67A

Engine rated output

kW/(r/min.)

206/2200

Engine rated torque

N.m/(r/min.)

1100/1400

Engine rated speed

rpm.

2200

Main Technical Data for Lifting Operation
Classificatory

Item

Unit

Parameter

Lifting performance

Max. total rated lifting capacity

t

50

Min. rated working radius

m

3

Turning radius at turntable tail

m

≤3.8

Max. load moment

Base boom

kN.m

1509

Fully extended boom

kN.m

631

Fully extended boom + Jib

kN.m

441

Outrigger span

Longitudinal

m

5.45

Lateral

m

6.6

Lifting height

Base boom

m

10.7

Fully extended boom

m

40.1

Fully extended boom + Jib

m

55.1


Working speed

Boom raising time

s

120

Boom full extension time

s

180

Max. swing speed

r/min

2.0

Hoist speed

Main winch

Full load

m/min

≥70

No load

m/min

≥118

Aux. winch

Full load

m/min

≥70

No load

m/min

≥118

Noise limit

Crane exterior noise

dB (A)

≤118

At seated position

dB (A)

≤90