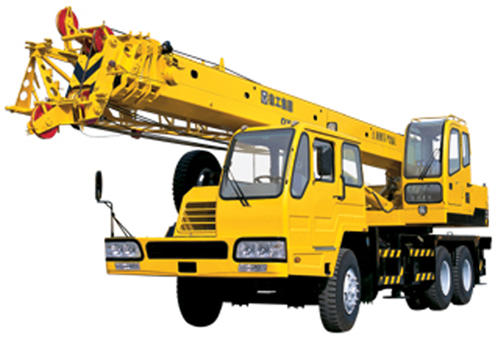 QY16D Truck Crane
QY16D Truck Crane adopts self-made truck crane chassis with Shanghai D6114 engine or Hangzhou WD415.21 engine.
4-section telescopic boom of all-round hexagonal cross-section has powerful lifting capacity. The main boom gives a maximum lifting height of 30.7m and plus jib offers a maximum lifting height of 38.5m. Every performance is in the lead in China.
A gravity lowering device equipped in winch system facilitates working efficiency; constant-closed external meshing brake makes operation safe and reliable.
Side-mounted jib, double cylinders for front support elevating, fully hydraulic drive and double H-shaped outriggers.
Large box type frame of torsion resistance, and wide outrigger extension greatly improve load lifting capacity.
Guide roller meticulously designed avoids rope-disorder.
Swing system with cycloid cylindrical lantern gear reducer can absorb shock effectively, run smoothly.
Driver's cab is equipped with damping adjustable seat and adjustable steering wheel. Air conditioner is available.
Newly designed operator's cab is spacious, comfortable and wide vision.
Air circuit with a dryer improves its reliability greatly.
Well-equipped safety devices, such as automatic moment limiter, hoist height limiter and working radius indicator. Illuminators facility operation at night.
The vehicle, equipped with devices for use in plateau, suits many kinds of working environment.
Technical Data for Lifting Operation
Classificatory

Item

Unit

Parameter

Engine

Model

D6114ZLQ5B

Outline dimension

Overall length

mm

11990

Overall width

mm

≤2500

Overall height

mm

3350

Wheel base

Axle 1, Axle 2

mm

4025

Axle 2, Axle 3

mm

1350

Mass

Total mass in travel state

kg

24000

Axle load

Axle 1

kg

6400

Axle 2

kg

17600

Travel performance

Travel speed

Max. travel speed

km/h

≥70

Min. stable travel speed

km/h

3~4

Turning diameter

Min. turning diameter

m

≤20

Min. turning diameter at boom tip

m

≤23

Min. ground clearance

mm

270

Approach angle

(°)

21

Departure angle

(°)

10

Braking distance (at 30km/h with full load)

m

9.5

Max. grade-ability

%

24

Fuel consumption for 100km

L

35

Main Technical Data for Lifting Operation
Classificatory

Item

Unit

Parameter

Lifting performance

Max. total rated lifting capacity

t

16

Min. rated working radius

m

3

Turning radius at turntable tail

m

≤3.12

Max. load moment

Base boom

kN.m

686

Fully extended boom

kN.m

388

Fully extended boom + Jib

kN.m

254

Outrigger span

Longitudinal

m

4.6

Lateral

m

5.4

Lifting height

Base boom

m

≥9.9

Fully extended boom

m

≥30.7

Fully extended boom + Jib

m

≥38.5

Working speed

Boom raising time

s

≤60

Boom full extension time

s

≤95

Max. swing speed

r/min

≥2.5

Hoist speed
(single line)

Main winch

Full load

m/min

≥54

No load

m/min

≥100

Aux. winch

Full load

m/min

≥54

No load

m/min

≥100

Noise limit

Crane exterior noise

dB (A)

≤118

At seated position

dB (A)

≤90